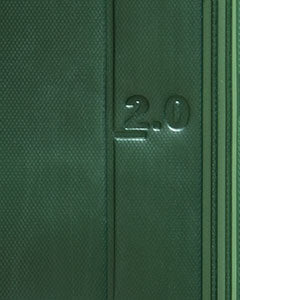 FOOD GRADE MATERIAL
Made from food grade PEVA material and certified by FDA and SGS, this water bladder is BPA free, with no chemical taste or weird flavors, just provide you with a pure and clean drinking experience. Adopted the high frequency welding technology, CHERAINTI hydration bladder is designed with double sealing lines to ensure the 2L hydration reservoir is pressure tolerant and leak-proof.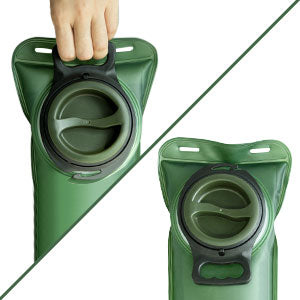 2 ORIENTATION HANDLES
CHERAINTI hydration bladder designed the screw cover with 2 handles. One big handle is for easy hold with hands, the other handle is suitable for hanging in the backpack, and it suits most backpacks. Besides hydration, water reservoirs may be used for washing dishes or equipment. Therefore, you can suspend the water bladder from a high place like a tree branch to get water flow out.
LEAK-PROOF LARGE OPENING
The 2 liter hydration bladder comes with a wide and large opening, which makes it really easy to collect, fill and refill, and even drain to keep away from bacteria and mold growth. You can reach the inside of water bladder for thoroughly cleaning. It is also convenient to fill in ice cubes to keep water cold. The screw cap closure is water-tight and leak-proof. So no need to worry about the leakage.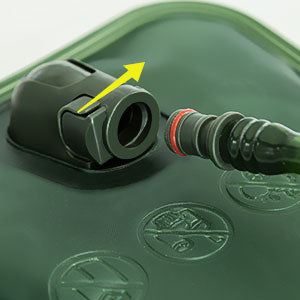 DETACHABLE HOSE
Thanks to the pushing and release hose mechanism, the water reservoir will not leak with hose attached or disconnected. When filling in water, you will find it more convenient to disconnect the detachable hose.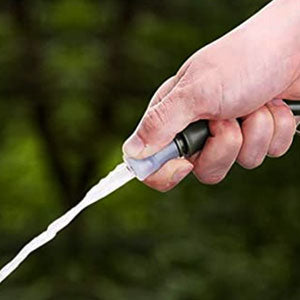 LEAK-PROOF MOUTHPIECE
There is a push/pull valve on the water bladder to against leakage when at off lever. You can bite the mouthpiece to get water out or use just one hand to squeeze it. The easy flow bite valve provides a big and smooth flow.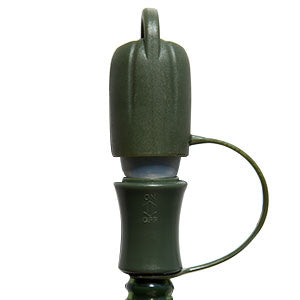 DUST COVER
There is a connected strip between the cover and valve, hence you won't lose the cover by accident. When the water reservoir is not in use, the durable mouthpiece cover protects the bite valve against dirt and damage.
                                    NOTIFICATION
Don't fill the hydration bladder with the following beverage:
Milk

Juice
Soft drinks
Alcohol
Liquor
Etc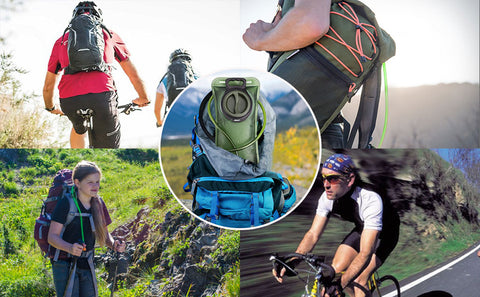 HOW TO CLEAN
Step 1: Fill the hydration bladder with warm water, half a teaspoon of bleach and two tablespoons of baking soda. Shake, close, then let it sit for 30 minutes or so.
Step 2: Dump out the cleaning solution, rinse well, flush the hose, prop the water reservoir open and hang it to dry.
HOW TO SUCK FOR WATER
There is an "on" and "off" bottom on the mouthpiece. If you put it "off", water can't get out. Please also bite while suck the mouthpieces .
Having water is an essential, and hydration bladder makes it easy to carry on your back without having additional containers. CHERAINTI portable and ergonomic hydration reservoir can fit in most backpacks. During outdoor trips, you can hang it to your camp side for easy access to water.
Always keep you hydrated, healthy and happy while you out there exploring the world!
Features & details
LARGE OPENING FOR EASY CLEANING & FILLING – Our hydration bladder has one of the largest opening on the market. The big opening makes for easy pouring of water. It is also fairly wide for a hand or bottle brush easily access to the interior hydration bladder. The 4" screw on cap goes on and off easily. For cold water, simply add ice cubes directly from a scoop or refrigerator ice dispenser. The smooth inner of water reservoir promotes health and is easy to clean.
PREMIUM QUALITY – The whole hydration bladder is made of premium material. CHERAINTI water reservoir is taste free, BPA free, SGS certified and 100% food grade. This tested to comply with international safety standards. It won't leave a bad taste in your drink. The water bladder passed pneumatic pressure test, it is pressure-tolerant. Double sealing side technique has greatly improved durability. Might be the most rigid hydration bladder on the market.
REMAIN PEFECTLY HYDRATED – This 2L water reservoir can withstand temperatures from -20 to 50 degrees Celsius. The tube resists temperature changes in hot and cold weathers. L 14.2'' x W 6.8'' hydration bladder is compatible with most hydration packs. The tube (0.4" diameter, 40" long) provides a wholesome flow for easy drinking, keeping you hydrated when biking, cycling, hiking, or running!
100% LEAKPROOF – You won't be slowed down with our high flow bite-valve. Simply bite the mouthpiece to suck water. Soft mouthpiece with easily accessible ON/OFF valve prevents leakage. It also has a cover to keep dirt out. Conveniently control the water flow by biting, when not bite, the water will not leak out. Quick-release tube is detachable. Auto shut off while the tube is removed, the hydration bladder will stay filled non-leaking. store neatly in fridge/icebox without tangling hose.