WARNING: CHOKING HAZARD
Small parts. Not for children under 3 yrs. 
Description
Ultra-Glow Super Stars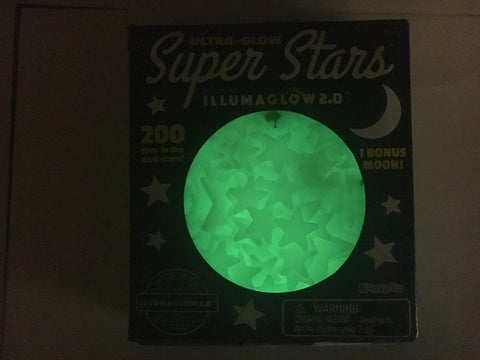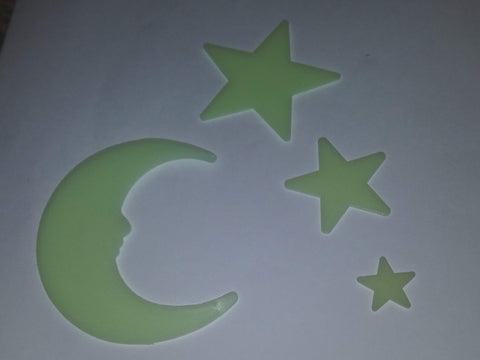 *200 Brilliantly Glowing Stars are included in each kit. Also 
*Lifetime Glow Guarantee - these are the only stars made with IllumaGlow2.0 - our Trademarked proprietary formula. 
*Our stars are NOT merely stickers or decals - They are rigid, Thermo-molded and can be re-applied with a special adhesive putty that comes with your kit. You won't have to deal with dried-on stickers that are virtually impossible to remove from your ceiling. 
* Each Kit comes with enough adhesive putty for all 200 stars (and even your Bonus Moon!) 
*A word about Putty - Our adhesive putty not only gives you the freedom to reposition your stars with the confidence that they will stick again, but has been tested to be safe for wall/ceiling surfaces - even textured or older popcorn-style ceilings. Other manufacturers use the less expensive double-sided foam tape, which loses it's adhesion properties after one application AND has been known to leave behind a messy, dried mixture of foam tape/dried glue that is extremely frustrating to remove. Bottom line is OUR putty is safe, Reusable and worry-free! 
*Comes with an inspirational star guide and constellation map. 
*Excellent tool for helping children who still struggle with being left alone in the dark. 
**Important - Charge Stars prior to each use using a bright Room light, making sure your bulb is approx 1,500 lumens. or more.